We Protect Your Heating Oil With UltraGuard™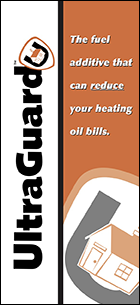 Here at Windsor Fuel, we don't just deliver heating oil – we protect it! Worry-free home comfort is well within reach thanks to UltraGuard, a heating oil treatment that reduces fuel-related service calls and helps maintain your satisfaction.
How does it work? UltraGuard is blended with our fuel in order to boost its stability and clean your equipment as it draws heating oil into the system.
How does it help? UltraGuard functions in a few ways that lead to longer lasting home heating equipment and a more reliable fuel:
Provides stability to the fuel
As untreated heating oil ages and sits in the storage tank, its effectiveness can degrade and cause issues with the combustion process. UltraGuard protects heating oil from degrading and boosts its combustibility.
Disperses sediment buildup
Sediment buildup can lead to costly repairs, as the particulates can find their way into the heating system and cause damage to the components of the equipment. UltraGuard protect heating equipment from breaking down.
Inhibits corrosion
Fuel storage tanks are incredibly durable, and are built to last. However, rusting and corrosion is still a possibility – especially for older storage tanks. UltraGuard protects fuel storage tanks from fuel releases.
Cleans and lubricates
Any surfaces that comes into contact with the treated fuel, including filters, fuel lines and nozzles, are kept clean and lubricated, allowing the heating equipment to perform optimally as long as the fuel is treated. UltraGuard protects the efficiency of home heating systems.
The Windsor Fuel team is constantly on the lookout for products that will improve our customers' comfort, and we have found a good one with UltraGuard! It increases fuel efficiency, reduces the chances of a heat outage and extends the lifespan of the equipment – all of which helps you save money!
For more information, click here to check out the UltraGuard brochure.